Party with a Purpose was birthed in the hearts of a few ladies at Edwards Road Baptist Church several years ago. This year commemorated our 6th annual party. It's an evening dedicated to the homeless women living at Shepherd's Gate and the women overcoming addiction at Miracle Hill Renewal Center. A multitude of volunteers served this year and last under the fantastic leadership of Peggy Murray and her daughter, Tonya Nelson. We all have a single mission: love these ladies in the name of Jesus.
The night is filled with fun, food, coffee, a trip through a boutique full of beautiful purses, scarves and jewelry, a nail salon, a photo booth to take funny pictures and much more.We have a Bible station where each lady is presented with a Bible and the Gospel is shared. A volunteer helps each guest make a gorgeous sterling silver Salvation bracelet. And the Gospel is shared. A few volunteers give hand massages that help our guests relax. And the Gospel is shared.
Hands-On Gospel
You see, the purpose of our party is to share the Gospel in a hands-on way. Often the guests come in, figuratively, battered and bruised by life's troubles, but find love in the arms and eyes of our dedicated volunteers. We want nothing more than to glorify Jesus at this party. And have a little fun!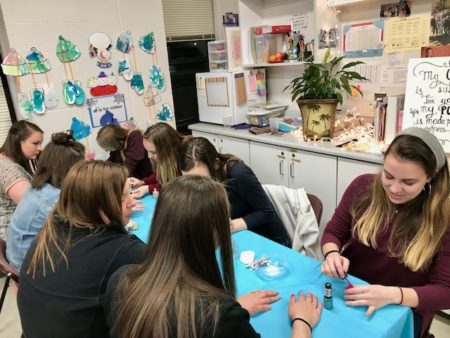 An evening like this truly takes a village to pull off – or better said, a congregation. We have a hostess with small groups of 2-4 guests who leads them through the different areas. It took many of our members to bake the incredible edibles we served. Teens and young adults ran the nail salon, and some took care of guests' children. Men provided bus transportation and guarded the building to keep us safe. Our adult Sunday school classes supplied various gifts for the beautiful canvas bags. Purses, jewelry and scarves were collected for the boutique. Prayer was lifted up many days in advance. Countless hours went in to pulling this off.
Getting Personal on Purpose
Because of our involvement in this party, we now have faithful volunteers who go each Monday to Shepherd's Gate and share a devotion. We pick up those ladies who are interested in attending church with us. There have been several long term relationships formed at Party with a Purpose.
I met a lady at our very first party as we made a Salvation bracelet together. She was broken and hurting as we looked face to face and talked about Jesus. We are good friends to this day.  I thank God for her and other sweet ladies that I remain in contact with.
I've volunteered with Miracle Hill for several years in different ways. This event is one of my very favorites. To see the smiles and hear the laughter and see a few tears brushed away from the precious faces just thrills my soul. We're already preparing for next year's Party with a Purpose. Yes, it really takes a long time to do this well.
I am so thankful to play a small part in this ministry and look forward to seeing how Jesus leads us as we seek to serve and share the Gospel.
Post submitted by Valerie Robertson, volunteer and mentor for women at Miracle Hill Renewal Center.