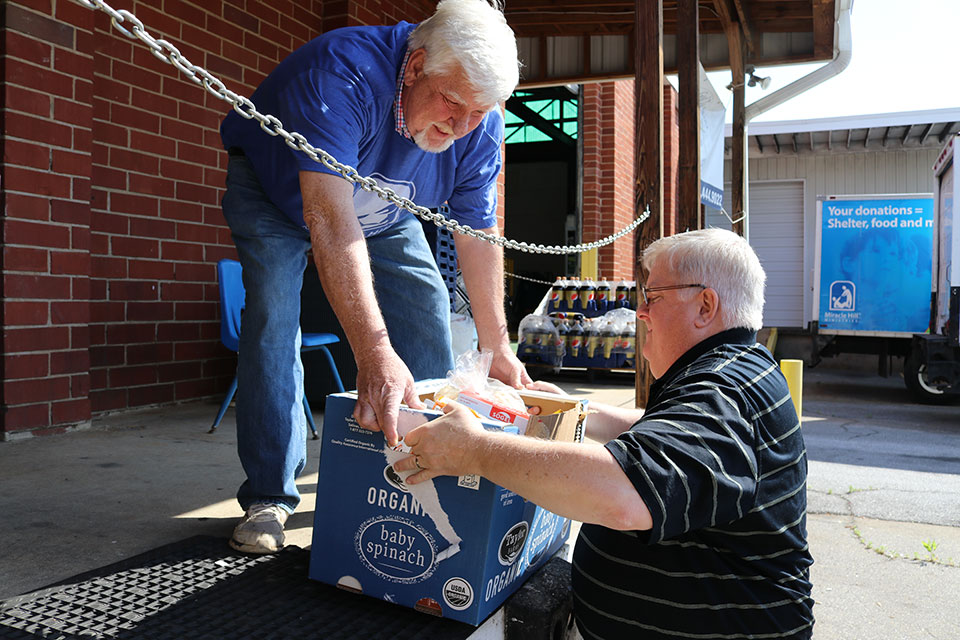 Address
725 Keith Drive
Greenville, SC 29607
Hours of Operation
Emergency Food Boxes
Mon – Fri  8:00a – 12:00pm
Donations Received
Mon – Fri  8:00a – 4:00p
Sat – Closed
Sun – Closed
Services Provided
Grocery Items
Prepared Food
Prayer Support
About Miracle Hill From God To You Food Warehouse
Miracle Hill From God To You is a community food pantry for people in need and a food warehouse for Miracle Hill's shelters. We also provide prayer support, and counseling when needed.
If you are in need of assistance, you bring a photo ID and two pieces of mail from your home address. Your mail must be addressed to the same place as your photo ID. Official mail or bills are preferred. Individuals may receive services food boxes for up to six consecutive months. Please, only one person per household.
View and support our most recent food needs on our Amazon Wishlist for the Food Warehouse.
How You Can Help
Want to give back to the Food Warehouse? Here's how you can get involved.
Donate Supplies
You can help feed people who are hungry by donating nonperishable food items like canned and dried goods to our Food Warehouse. These donations are critical in helping us serve those in need. Before you donate, we ask that you contact the warehouse directly to determine our most current needs.
Call 864.552.1430
Volunteer Your Time
If you would like to share your God-given talents with those in our care, we invite you to volunteer at the Food Warehouse. We welcome both individuals and groups, and we offer all different types of opportunities.
Learn More