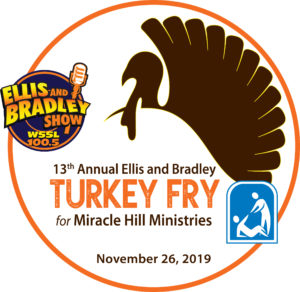 The 13th Annual Ellis & Bradley Turkey Fry for Miracle Hill is the largest event of its kind in the state of South Carolina, but it's only possible because of the hundreds of volunteers and donors who give so generously of their time and resources to make it happen.  Each year we experience an outpouring of support, kindness and love so that the guests in our homeless shelters, our foster families and others in need in our community can enjoy a Thanksgiving meal.
"We are overwhelmed by the community's generosity in support of this event," said Kaylin Leopard, Event Coordinator.  "It's a day that is purely about giving and letting people who often feel invisible know they are loved."
Frying and smoking more than 500 turkeys in a matter of hours is no easy task, but storing, thawing and preparing them for cooking is just as critical.  One of our business partners, Swift Charities, provides a refrigerated trailer that allows us to keep a count of the donated turkeys and to properly thaw them leading up to the big event.  The truck sits in the parking lot at our Spartanburg Rescue Mission for a couple of weeks, a visual reminder to the 100 homeless individuals living at the shelter that their community has not forgotten them.
"We support Miracle Hill because we have been able to meet adults and children and see the change that has happened in their stories. Supporting the organization with a refrigerated trailer to use to collect turkeys, doing food drives, collecting monies to donate to build homes or just volunteering in person makes a difference no matter how big or small and gives us hope that lives will change by our actions," said Yvonne Howell, Swift Charities representative.
This year we expect to feed over 3,300 homeless and impoverished people who otherwise might go hungry on Thanksgiving. In addition to feeding the guests living in Miracle Hill's eight shelters and some of our foster families, we have partnered to provide turkeys for the following organizations:
Testimonials from our Turkey Fry Sponsors

"Miracle Hill makes it easy for people like us to support them. They're an asset to the Upstate, and without them, the Upstate would not be the place it is today. They help make this a great place to live, work, worship and raise our families."
~Tommy Harvey, Executive Pastor of Praise Cathedral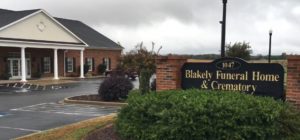 "They've always been straight up as far as helping others. That's why we support them so fervently because they meet not only the physical needs of their clients and folks that are down on their luck, but they also meet the emotional and spiritual needs. We really appreciate that. We look for places where the Lord's working, and He's definitely working at Miracle Hill. That's where we want to invest our money.  It's all His anyway, so He just gives us the privilege and honor to give back to the kingdom, and that's definitely one way to do it — with Miracle Hill."
~Ashby Blakely, Blakely Funeral Home