Patrick Scott's life was in shambles. At eighteen years old, and with no family to support him, he found himself in prison after a dispute with a neighbor went terribly wrong. But little did he know that this downhill slide so early in his life would turn into a blessing that would change his live forever.
Patrick grew up in Charleston with his parents and his sister, but his family situation was the first of many trials put in his path. "I had a very troubled past," Patrick says about life with his family. "I was always curious about what my life would lead up to, but there was a lot of family negligence. I just did what I had to do to survive, basically."
A Dangerous Turn
Life quickly took another dangerous turn. One evening, when he was eighteen years old, Patrick got caught up in an altercation with a resident of a nearby neighborhood. The dispute became violent and the situation quickly escalated into a shootout. He was arrested under an illegal weapons charge that put him in prison for four and a half years.
While in prison, Patrick's state of mind took a tailspin. He no longer knew what to pursue in life and he could not even find it in himself to make a plan for the next three months. He realized that he could not live the rest of his life as he had been before. He knew that something had to change, but he kept asking himself the same question… how do you even begin to change the entire direction of your life? The answer to his question came through his parole officer. "My parole officer said, 'I'm looking for placements for you in Greenville and this is one of the options,'" Patrick recalls. "'And this is what we're going with…Miracle Hill Ministries' Greenville Rescue Mission.'"
Hope was in sight, but Patrick says that transitioning to life at the Mission was difficult at first. "Walking into the Rescue Mission for the first time, I was not in my right state of mind. I was on so many medicines and they were taking over my thoughts and my movement. I felt deserted and far from home. All I was thinking about was tomorrow, what is tomorrow going to be like?"
Letting Go and Letting God
But day by day, Patrick's morale began to improve. He started being more social around the Mission, forming friendships with residents and counselors alike. Soon, under the recommendation of his counselor, he was filling out work applications in the Mission's computer lab. He made a connection with Project Host, a nonprofit soup kitchen, culinary school, and catering organization in Greenville. After participating in Project Host's culinary school, he took on an internship with Project Host that led to a sous-chef position at the Trappe Door restaurant in Greenville.
As he engaged in these opportunities, Patrick quickly began to see his life getting back on track. But perhaps even more importantly, he saw his life regaining purpose as his faith in Christ began to grow. "When I was in prison, I knew who God was, but I didn't believe in him. I just said 'I'm going to take matters into my own hands.' Basically, I was just angry about my situation, so I was taking it out on him." While at the Mission, however, he began to realize the love of God through the power of prayer. "I always pray, and it seems like every prayer that I pray, he answers. Now I believe that God is real because he's been answering prayers and he's been opening up doors."
Patrick is now excited to pursue the life ahead of him, the life that God has set before him. Through the encouragement of his counselors and the resources provided to him by the Mission, he has hope for his future and foresees a life of vibrant possibilities. Even more than that, though, he now has comfort in knowing that he is no longer alone in the trials of life. As Joshua 1:9 says, "Have I not commanded you? Be strong and courageous. Do not be afraid; do not be discouraged, for the Lord your God will be with you wherever you go."
"It feels like God has a plan for me," Patrick says. "He has a big plan for me."
[embedyt] https://www.youtube.com/watch?v=xFetQfCftxY[/embedyt]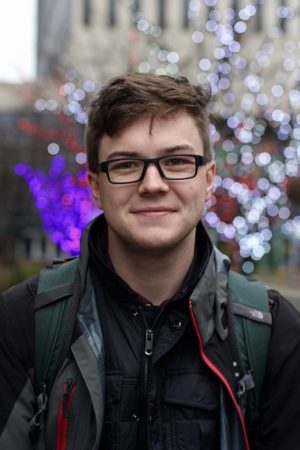 Post submitted by Bates Whitaker, Media Intern at Miracle Hill Ministries