When I was a teenager, basketball was basically my world. I lived, ate, and breathed basketball from early in the morning until late at night. At some point in the tenth grade, I was watching a video of myself shooting the ball and realized that my technique was way off.  If I wanted to be more consistent and effective as a shooter, I needed to change my shooting form.  Prior to this revelation, 3-point shots were a big part of my game. As I began to learn a new way of shooting the ball, however, it became obvious that I needed to start closer to the basket. As I practiced the basics around the rim, I then became able to hold my form from greater distances. The process was slower than I liked and it was frustrating at times. In the end, however, I became a much purer shooter.
Sometimes, we just have to start over. We need to realize that what we have been doing is only going to take us so far in life. Wise people are willing to get rid of some old habits, learn some new ones, and slowly be formed into new people who function in a new way.
Even as I write these words, I am in the midst of yet another learning cycle. A year and a half ago, I began to build towards running mid-distance races. My "genius" self did not realize that running long distances can result in injury if you do not run with proper technique. As far as I knew, there was not a right or wrong way to run.  You just ran. Well, I ran. I ran myself right into an injury. Now, I am starting over, learning to run a new way with the help of other more experienced runners. In just months, I'm already running faster and farther than ever before.
Many people run through life without realizing the potential danger of wrong living. Perhaps they have run well for a period of time but have now run into injury. In other words, they are experiencing pain, heartache, and consequences. Life is not over. Sometimes what feels like the end is an opportunity for a new beginning.
Fight On
For years, it has been my privilege to serve, encourage, and teach people who hit bottom and need a new start. I meet many of them through partnership with Miracle Hill and other local ministries. Even now, I think of a man I met sitting in the chapel chairs at Miracle Hill's Spartanburg Rescue Mission one evening. Like all of us, he had done wrong. Our first conversation was about all his spiritual doubts and anger towards God. Over a few weeks, his running from God quickly turned into his running towards God. For years now, he has sat in a chair on Sundays and run the audio and sound for our Sunday morning services. Not only that, he has a home, a full-time job, and a "never give up" attitude. He started over and is still going forward.
Through the years, many who have been touched by Miracle Hill have touched my life. There are probably 100 or more individuals who once resided at the mission that our church family has baptized after they professed faith in Jesus. Some have stood by my side as together, we led worship in various places. Many have shown up and worked hard to serve others in the community. It is powerful to watch those in a homeless shelter knock on doors, pour sweat in the heat, and serve tirelessly because they want to demonstrate the love of Christ to their neighbors.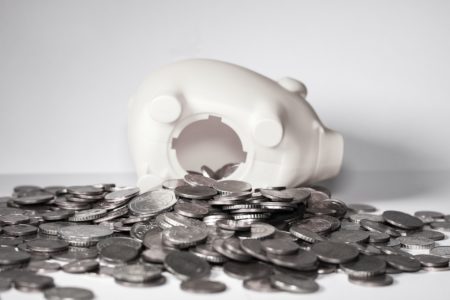 Several years ago, a man staying at Miracle Hill was moved by an opportunity to provide meals for orphans. He lived in a temporary shelter where his meals were provided by others. His desire was for children in need to be cared for as well. This gentleman had no income at the time, but he prayed for the Lord to allow him to help. We gave him a small money bank. As he walked through the streets of our city over the next 6 weeks, he found $23.00 of loose change on the ground. He brought back a full money bank with enough money to provide 92 meals for children.
Sometimes, the greatest lessons learned when ministering to those at Miracle Hill are lessons they are teaching me. My own self-centeredness, self-pity, and tendency to complain are challenged by men and women who love, serve, and fight on through difficult circumstances. I love them. I love the privilege of getting to know them.
Life According to Jesus
My hope is that many will somehow benefit from spiritual lessons taught to them as well. Years of ministry experience have taught me to lead as many as possible to this teaching from Jesus:
"Therefore everyone who hears these words of mine and puts them into practice is like a wise man who built his house on the rock. The rain came down, the streams rose, and the winds blew and beat against that house; yet it did not fall, because it had its foundation on the rock. But everyone who hears these words of mine and does not put them into practice is like a foolish man who built his house on sand. The rain came down, the streams rose, and the winds blew and beat against that house, and it fell with a great crash." – Matthew 7:24-27
 Almost everyone served by Miracle Hill is looking for a new beginning of some kind. Many are hoping for a better life, one that will last and not fall apart. According to Jesus, a life that will not fall apart is built by doing what He tells us. Life is not easy for anyone but for those in transition, there are great challenges. To avoid continuing a cycle of pain and loss, they must make hard decisions and take what feel like huge risks in order to do what Jesus says. But miracles happen when people trust Jesus enough to do what He says.
Jesus' first public miracle involved a group of unnamed people who were given a simple instruction. In John 2:5, Mary turned to some servants and said, "Do whatever He tells you."  This group of nobodies did just that and as a result, they got to be part of a miracle. That miracle no doubt impacted their lives and the account of what happened is still impacting lives today. Talk about a simple life plan to follow. Just do what Jesus says. Even if it is hard, even if it does not make sense, just do what He says, because it makes a difference. That is the key to starting over and building a life that lasts, not just for those at Miracle Hill, but for all of us.
[embedyt] https://www.youtube.com/watch?v=k4Eo_J4AWlU[/embedyt]
Blog post submitted by Chris Pollard, Pastor of The Journey and Catalyst for Come Closer Spartanburg.  His new book, Starting Over: Building a New Life is a discipleship tool that can be used personally or as a tool to equip you as a mentor or disciple-maker to address the most common stumbling blocks people encounter. Chris can be reached at lovethecitytolife@gmail.com